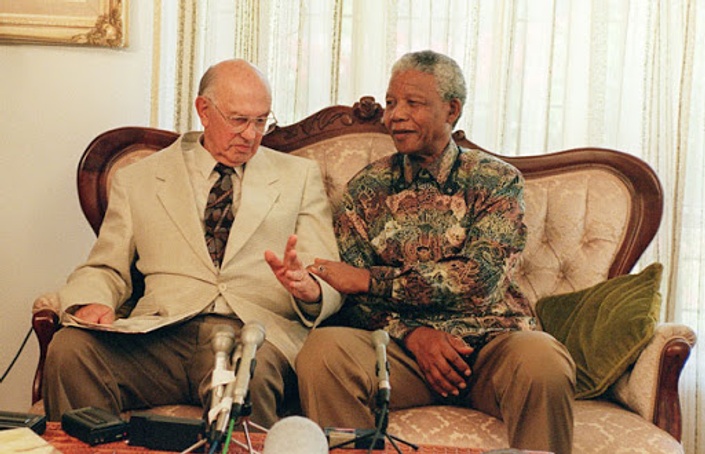 ADVANCED CERTIFICATE IN EQUITY, DIVERSITY, INCLUSION & ANTI-RACISM
A Strategic Framework to Build & Sustain a Cohesive Corporate Culture
Watch Promo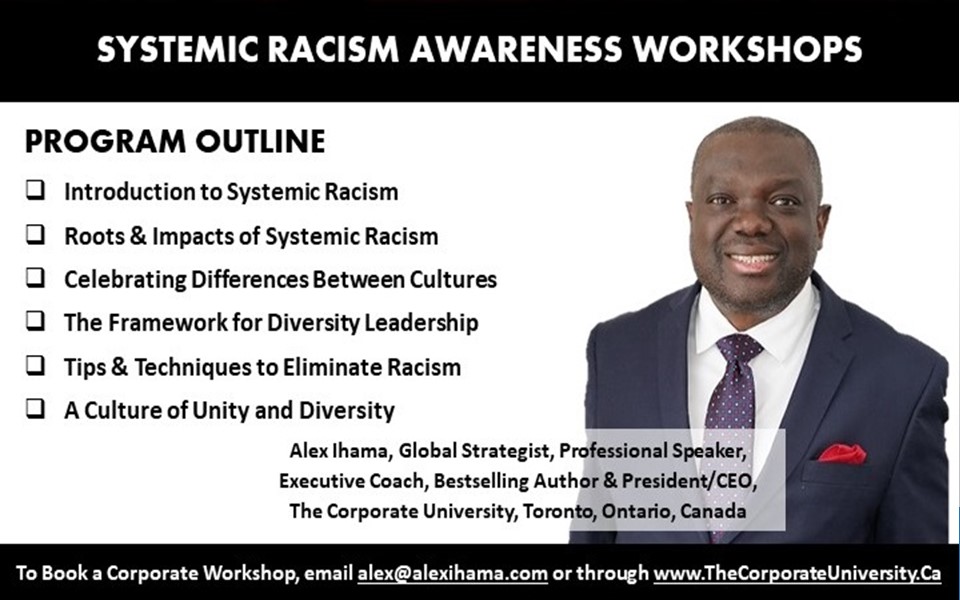 In such a competitive and global market, organizations are always looking for better ways of improving their performances, achieving corporate objectives, and developing the technology that is required to be more effective and efficient.
Instrumental in accomplishing these objectives are knowledgeable and skilled workers; however, a particularly important factor that distinguishes the success of one organization from its competitors is the ability to value employee diversity as a business strategy and their intentional effort to end systemic racism.
An organization that desires sustainable growth overall must continuously learn to embrace, maximize, and celebrate the diversity of its workforce while making every effort to ensure senior management decisions are inclusive of the minority group.
The world is now a global village, as many countries are becoming more diverse than ever.
As a result, organizations are becoming increasingly diverse; and since Canada admits more immigrants per capita than any other country in the world, workplace diversity is now a kaleidoscope of individuals from different backgrounds.
To maximize diversity in organizations, employees and executives must be equipped and empowered with tips, tools, and techniques to rid themselves of unconscious biases while scrutinizing undocumented processes, procedures and policies for clues and cues of systemic racism, racial discrimination and non-inclusiveness in executive decisions.
This is what we have been helping organizations, institutions and arms of the governments do for over two decade - to create a work environment where people feel valued no matter the colour of their skin, the texture of their hair, sexual orientation, religious beliefs, educational and socioeconomic background and other aspects of life that have become discriminatory.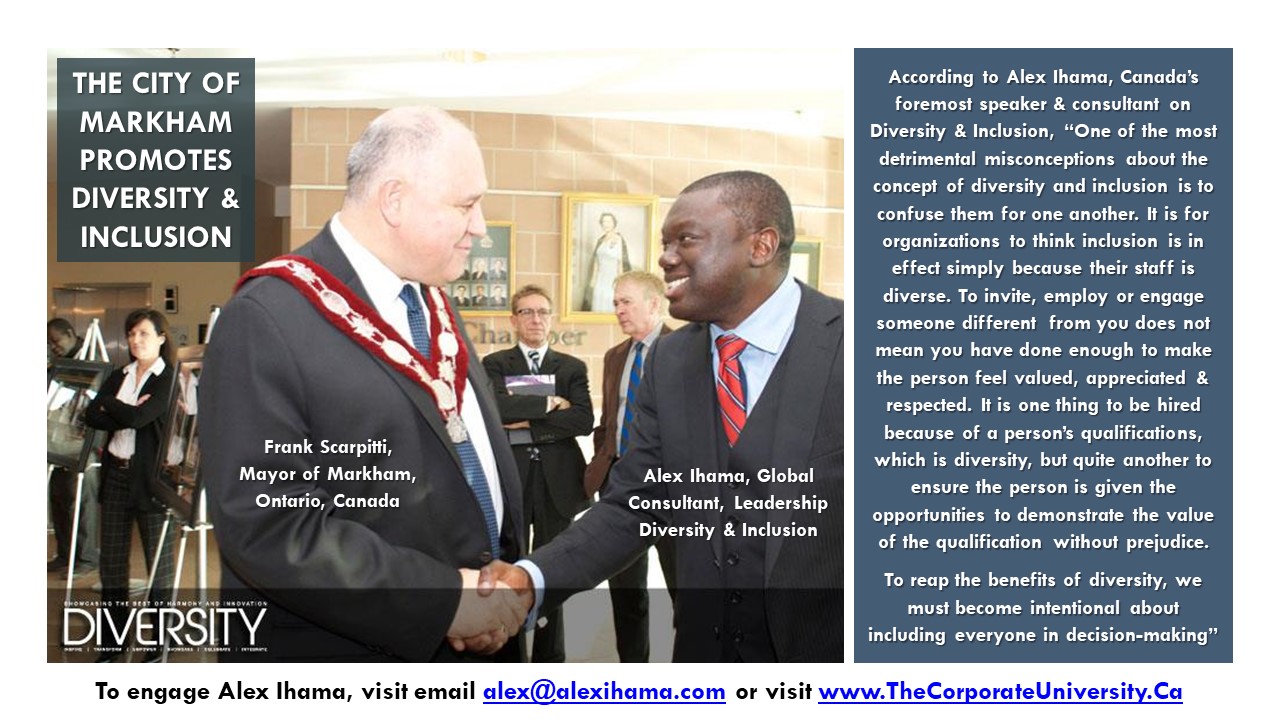 Alex Ihama, Global Strategist, Executive Coach, Professional Speaker, President of School of Greatness, CEO of The Corporate University and Canada's Foremost Consultant on Leadership, Strategic Management and the Strengthening of Corporate Culture and Competitive Edge through Diversity & Inclusion.

INTRODUCTORY WORKSHOP ON SYSTEMIC RACISM

Our Diversity Leadership program was developed sensitively to inspire employees and executives of organizations to rise above natural prejudicial tendencies to create a corporate culture of unity, cohesiveness, and sustainable harmony.

The first session of the program is a comprehensive workshop with an in-depth look at the sensitive topics of race, race relations, characteristics of ethnicity, life as a minority, as well as the definition and roots of racism, scientific racism, systemic racism, white privileges, the concept of Glass Ceiling and terminologies like white, black, etc.
We will be leveraging tact and diplomacy and two decades' worth of experience as a trainer, coach and mentor to initiate and facilitate uncomfortable conversations with participants about the challenges that ethnic minorities face in workplaces and communities, especially those with an African and indigenous heritage.
Another component of the program, which makes it unique, is a course to inspire, equip and empower the ethnic minorities in your organization with tips, tools, and techniques to collaborate and educate their peers on cultural differences.
Participants will also be encouraged, equipped and empowered with personal tips, tools and techniques to discover, discuss and deal with subtle prejudices, as well as with corporate strategies to intentionally protect the dignity of minorities, deal with systemic racism and foster the celebration of cultural and ethnic difference.
This session will conclude with a clearer understanding of equity, which is the quality of being fair and impartial, versus equality, which is the state of being equal, especially in status, rights, and opportunities – and how to combine both concepts for team synergy.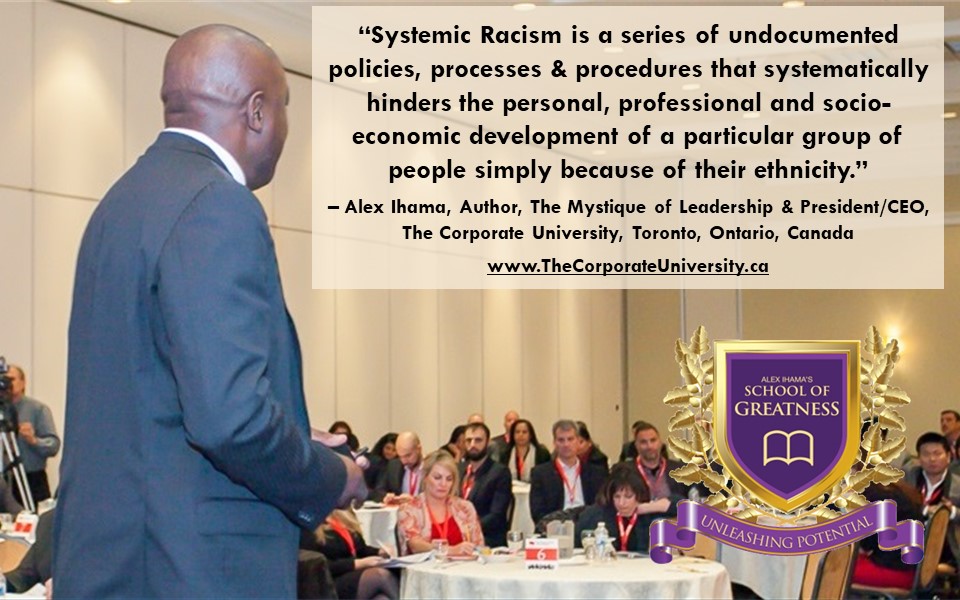 ADVANCED WORKSHOP ON SYSTEMIC RACISM
The second session which is for those in positions of authority like managers, directors and executives will build on the introductory session to transform themselves into agents of change in terms of diversity leadership.
They will also be learning the critical roles of race and diversity in the development of a cohesive and progressive corporate strategy and culture, while been encouraged, equipped and empowered to become Diversity Leaders with the capabilities of influencing their teams to celebrate fundamental racial differences.
We will work with your staff on how to expand your corporate strategy to include deliberate and profound equity initiatives to secure the dignity and integrity of your organization against clues and cues of systemic racism.
It will conclude with practical ways of how managers can use conversational and emotional intelligence to facilitate team conversations about race and other forms of diversity that may be considered uncomfortable.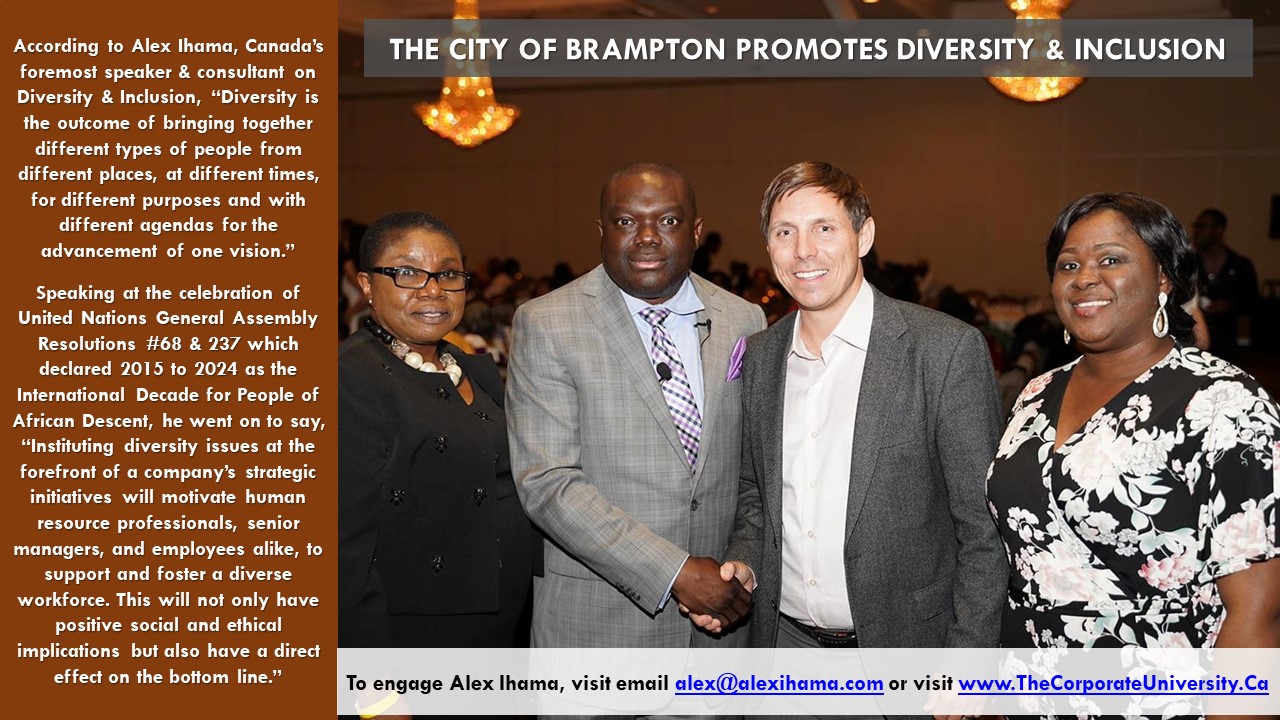 In a diverse workforce, treating people equally may be interpreted as ignoring individual differences, thereby leading to inequitable treatment. To celebrate diversity, we must seek to provide equitable treatment for employees, by moving past equal treatment where differences are ignored, to equitable treatment where differences are recognized, acknowledged & valued.
"Organizations that wish to sustain its success must consider diversity & inclusion as a strategy that must be embraced, celebrated & maximized as part of doing business. Executives must understand that being strategic about ending systemic racism in workplaces and communities is a competitive advantage and business imperative."

Welcome to our Diversity Leadership Program and we are glad to support your personal and corporate transformation in terms of diversity and inclusion and to end systemic racism in your organization, community, church, school, and other forms of association.
We have facilitated diversity programs for many organizations across Canada, including CIBC, TD, BBPA, Moneris Solutions, Bank of Montreal, Canada Basketball and many schools and arms of the governments including the cities of Toronto, Markham, Mississauga and Brampton. To engage Alex Ihama directly, kindly send an email to [email protected] or through www.TheCorporateUniversity.Ca.
___________________________________________
HERE ARE WHAT SENIOR EXECUTIVES ARE SAYING ABOUT OUR PROGRAMS
"Alex is a change agent who touches each person with whom he interacts with his powerful and practical transformation and motivational message and training techniques. Thousands of successful business leaders in Jamaica while attending the Jamaica Stock Exchange's premier conference on investment and the capital markets have reacted positively to his life-changing leadership sessions and in-house training, which have enhanced corporate productivity and growth. We have certainly benefited, and we thank Alex and the Alex Ihama School of Greatness. The JSE made a Great Choice, and so can you."
– MARLENE STREET-FORREST, MANAGING DIRECTOR, JAMAICA STOCK EXCHANGE, KINGSTON, JAMAICA
"I was struck by his presence, enthusiasm and the electricity he brought to the room. He walks and manages a fine line of being inspirational, provocative, humourous, passionate and purely entertaining. His experiences and wisdom are evident in his remarks. He compliments you and challenges you in the same sentence. He takes you on a journey of emotions which invokes laughter, deep thinking, reflection, and pride, and leaves you wanting more."
– MARK CUMMINGS, PRESIDENT/CEO, SCOTIABANK LIFE INSURANCE COMPANY, TORONTO, CANADA
"I had the pleasure of working with Alex for our annual NBC convention, and have seen firsthand his commitment to excellence and professionalism in all that he does. Alex gives all that he has - he is full of life, he bursts with enthusiasm, he is passionate and truly engaging. You cannot come into his presence without being touched, moved to action or to change".
– JO-ANN CARDINAL, BUSINESS DEVELOPMENT MANAGER, NATIONAL BANK OF CANADA, MONTREAL, CANADA
"When you talk about leading by example and leadership in action, I watched and listened to Alex – you saw that he is really into developing people. Plus, I love how he doesn't sugar coat his messages and shakes your thinking. I still can't explain to my colleagues what it was and how it was because it was just such a fresh, impactful experience. It doesn't fit into a box – you know you were supposed to be at a "formal" event at the Pegasus Hotel, but it felt like we were all having one big veranda conversation. It came at the right time in my life."
– PATRICIA PETERS, FACILITATOR, WHOLE LIFE COLLEGE, KINGSTON, JAMAICA
"Alex Ihama is powerful and provides a huge WOW factor in everything he does! Unlike traditional ones, his training programs provide a new learning experience that stretches you in ways you didn't know you could grow. He ensures that what you learn becomes an extended part of who you are after the program."
– MICHELLE CHONG, CEO, HONEY BUN (1982) LIMITED, KINGSTON, JAMAICA
"You always know when you spot a good thing. In Alex's case, I spotted a great thing. I also admire his desire and dedication to helping people uncover and achieve their own greatness. He is an incredibly motivating speaker who delivers solid and actionable advice. I have no doubt that Alex would be an awesome addition to any event, organization or project."
– KATE MICHEL, LEADERSHIP EXPERT ON NEURO-LINGUISTIC PROGRAMMING, MICHIGAN, UNITED STATES OF AMERICA
"Alex Ihama's speech to the audience could not have been a more poignant reminder that success is a journey, not a destination. I felt uplifted by Alex's plea that we must keep moving forward, and we must reach greater heights. Few speakers are imbued with an ability to discharge a seemingly weighty message in earnest while, at the same time, delivering levity and laughter with precision.
– MARLON REID, VICE PRESIDENT, TORONTO DOMINION BANK, TORONTO, CANADA
"Alex Ihama is one of the most dynamic and engaging speakers in Canada today. His messages and the poise with which he delivers them will at once inform the listener that he is very knowledgeable. He is also very insightful and thoughtful in his delivery. His most powerful tool, however, is the entertaining manner in which he delivers his messages. As a result, Alex is highly effective in connecting with his audience, because while they are paying attention to his wit and humour before they know it, they will have learned something from him."
– DR. ANTHONY STERLING, PRESIDENT/CEO, STERLING DENTAL, TORONTO, CANADA

"No matter what the content, Alex's presentations are engaging, interactive and dynamic. People in the audience were interested in what he had to say, and that interest carried throughout the entire speaking engagement."
– RICHARD RAMEZ, SENIOR DIRECTOR, CIBC, TORONTO, CANADA

If you wish to engage Alex Ihama as a speaker for your corporate event or executive coach for your leadership team, or perhaps, develop a corporate strategy that is bound to increase the 360-degree feedback of your employees, reduce your operational cost by at least 25% and increase your sales revenue by over 25%, email [email protected]

Your Instructor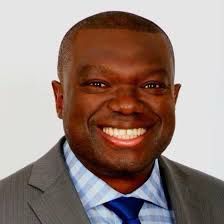 Since 1999, Alex Ihama has gradually worked his way through many industries and arms of the governments to become one of Canada's foremost speakers, executive coaches, and consultants on innovation leadership, strategic management and the transformation of culture and strengthening of competitive advantage through an inclusive diversity and workplace equity framework.
As the Executive Director of the Canadian Congress on Inclusive Diversity& Workplace Equity, he works with and through many academic, scientific and experiential experts, researchers, and trainers to offer an end-to-end strategic solution that organizations, institutions, and the government require to develop their leaders, implement equitable policies and build a cohesive and inclusive corporate culture.
After watching the live stream of George Floyd's killing by a police officer on May 25, 2020, he decided to leverage this significant experience in strategy to create a comprehensive & transformational diversity framework which is now being used in major organizations to initiate and sustain paradigm shifts in mindsets, skillsets, communications and culture.
Alex strongly believes that eliminating systemic racism from a corporate, community, religious or institutional culture requires a well-thought-out strategy than sporadic training and activities to celebrate diversity. It requires all hands on deck, from the leadership to the staff, to ensure the cues and clues of discrimination and inequities are identified and dealt with – swiftly, strategically, successfully & sustainably.
This, he said, is his life's work.
For more, visit www.canadiancongressondiversity.ca, email [email protected]. You may also call +1-416-902-6672.
Frequently Asked Questions
When does the course start and finish?
While there are some scheduled sessions for different courses, you can start the online component of it any time - at your pace, place and prerogative! It is a completely self-paced online course - you decide when you start and have 3 months to finish it.
How long do I have access to the course?
You have three-months to complete most of the courses, except otherwise stated or prearranged with an organization that may be sponsoring you. Although, the free courses like A Course on Greatness is accessible FOREVER!
Can I get a refund if not satisfied with the program?
While the surveys of our students often indicate they are delighted, you have the option of a refund after the first module only. We are so confident in the impact of this program that you are entitled to a refund if unsatisfied with the first two modules.
What is the pass mark of the quizzes and can I take them again if I fall short of the pass mark?
The pass mark for the program with quizzes is 80%, and you have two trials if you fall short the first time.
What are some of the unique benefits of this program?
1. The depth of our contents is beyond mere thought-provoking to being revolutionary, thereby instigating the renewal of people's minds and inspiration to their souls. 2. We base our contents on psychological, philosophical, spiritual and physiological research, thereby, intellectually stimulating, spiritually therapeutic & economically empowering. 3. The outcome of our programs is remarkable and measurable, thereby enabling targets in sales revenue, leadership assessment and customer satisfaction to be exceeded. 4. We use technology to offer a three-months follow-up coaching and mentoring program, thereby reinforcing and inspiring participants to sustain their transformation. 5. Our programs are facilitated live and in online micro-learning sessions with quizzes and assignments, thereby granting participants opportunities to become certified in the program. 6. The skills learned in our programs are transferrable between roles and responsibilities as well in work and life, thereby maximizing the benefits and outcomes for life. 7. The intensity of our programs and the propensity of our delivery challenges participants holistically, thereby empowering them physically, mentally, emotionally and spiritually.